Skip to Content
Unrivalled MINI & BMW AC Repair Service in Portland, OR
Stay Cool All Year Long
We offer car AC repair specifically for BMWs and MINIs here at Boyd Motor Werks. We are as passionate about these cars as you are, and we want to restore your AC system so you can enjoy the thrill of the open road even in inclement weather. We fully inspect your AC system and provide accurate diagnostics. Once the problem is identified, we can fully repair your AC system. If new parts are needed, we only use OEM parts approved by the manufacturer. You can count on us to repair AC leaks, failed condensers, broken belts, electrical failures, broken fans, and perform AC recharges, replace orifice tubes, check output temperature, and more. Bring your car into our shop for AC service today!
AC Maintenance & Repair
It should be pretty easy to tell when you need MINI or BMW AC repair because your car will not cool down as well as it used to. In some cases, it may not cool down at all. You may also need AC repair if: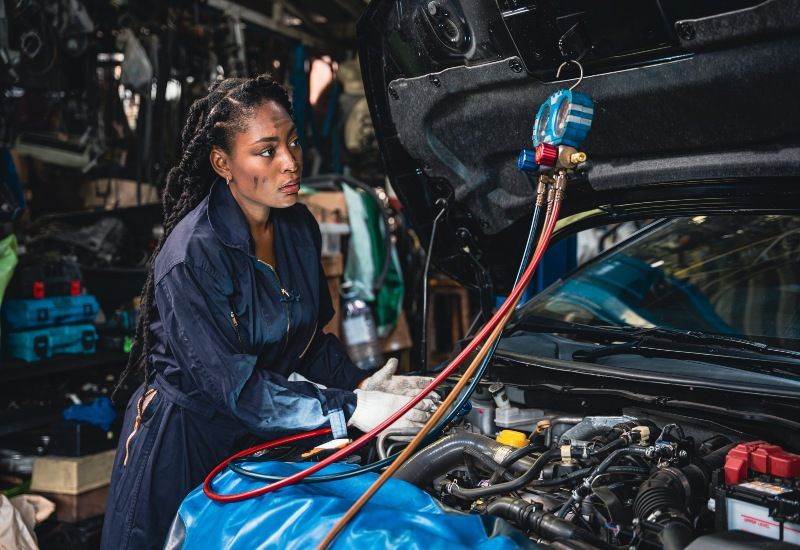 You hear strange noises when you are using your AC
You see leaking water on the ground when your car is parked
You see excess moisture buildup inside the vehicle
Your AC is blowing warm air, weak air, or no cold air at all
You smell a strange odor when the AC is running
In addition to needed repairs, you should have your AC maintained by an expert regularly as well. That's because certain problems with the AC compressor can cause your engine to overheat. It is recommended that you have your BMW or MINI AC inspected once a year.
You may be curious about fixing the AC yourself. Maybe you have seen recharging kits at your local auto supply store and thought about tackling the maintenance yourself. While it is possible to repair your AC at home, it is not recommended. BMW and MINI systems are complex, and over-pressurizing the cooling system can cause permanent damage. At-home AC repairs are very risky and can cost you thousands of dollars in repairs.
AC Repair FAQs
You may have a lot of questions regarding BMW and MINI AC repair. You can always call us up and talk to one of our certified mechanics, but here are the answers to some of the most common AC repair questions:
Can I bring my BMW/MINI to any AC repair shop? – Taking your BMW or MINI to any repair shop for AC repair may actually void your warranty. Uncertified MINI/BMW mechanics may use inferior parts that will compromise the performance of the vehicle.
What kind of AC repairs do you perform? – You can bring your vehicle to us for broken AC fans, electrical failure, AC leaks, belt replacement, Mini Cooper AC recharge, BMW air conditioning repair, condenser repair, and much more.
What is the average BMW AC compressor replacement cost? – It will depend on the year and model, but let's take a BMW 3 series as an example. The average cost to replace the AC compressor for a 3 series is between $1300 and $1800.
Contact Boyd Motor Werks
Driving your vehicle in cool comfort is important to the safe operation of your vehicle. Avoid the discomfort, frustration and risk by bringing your MINI or BMW to our shop for professional AC repair!
Auto Repairs from a Business that Emphasizes Integrity, Trust, and Value