Skip to Content
Reliable Pre Purchase Car Inspections in Portland, OR
Buying a new vehicle is a significant investment in your future. You will rely on this vehicle for years to come to transport you and your family safely. At Boyd Motor Werks, we offer meticulous, detailed pre purchase inspections in Portland, OR. If you are considering purchasing a BMW or Mini Cooper, our experienced ASE-certified team of auto technicians will go over every inch of the vehicle to ensure it is safe and worth the purchase price. We will provide a detailed report outlining any issues we have found, the cost and time required to fix them, and whether the vehicle is priced fairly.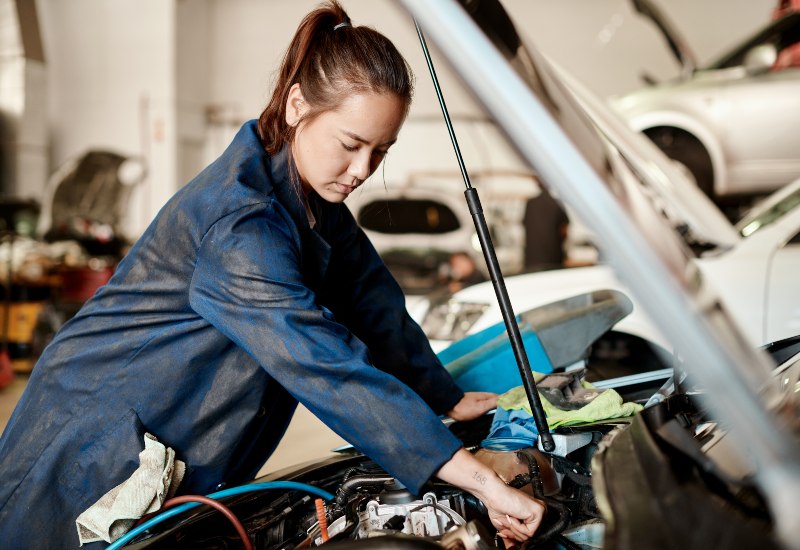 Why Have a Pre Purchase Car Inspection?
A pre purchase car inspection protects you from a poor investment, wasted money, and future safety issues associated with undisclosed issues with the car. A certified auto technician will evaluate every area of the car, looking for signs of damage, prior accidents, faulty parts, or undisclosed problems. He will let you know if the vehicle purchase price is inflated or if the car isn't worth purchasing at all. Without a pre purchase inspection, you risk buying a vehicle that is unsafe or performs poorly.
When Should You Request a Pre Purchase Vehicle Inspection?
You should visit a qualified, experienced auto technician for a pre purchase vehicle inspection if you:
Want to protect you and your family's safety
See signs of damage or undisclosed problems
Plan to purchase a vehicle without a warranty
Are purchasing a vehicle through a third-party seller
Are buying a vehicle over the Internet or long-distance
Identify problems during a test drive or visual inspection
Want to protect your investment or avoid wasting money
Suspect the vehicle's price is inflated based on its condition
Suspect the seller isn't being honest about the car's history or condition
Don't have any information about the past owner, driving habits, or prior service records
Checking the tires
Completing a road test
Checking all fluid levels
Checking the coolant levels
Checking the body condition
Reviewing any frame damage
Reviewing the overall condition
Checking the suspension system
Looking for signs of flood damage
Investigating computer error codes
Testing the vehicle's braking system
Looking for signs of poor repair work
A visual inspection of the body and frame
Looking for leaks and broken components
Completing an engine analysis and problems
Determining whether a smoker previously owned the car
Benefits of Using Our BMW & Mini Pre-Purchase Inspection Services
Here at Boyd Motor Werks, we have been serving the motorists of Portland, OR for more than 40 years. We specialize in Mini and BMW vehicles and have a full team of ASE-certified mechanics to carry out repairs and pre purchase inspections.
What are the specific advantages of working with our team? Let's take a look at a few of them:
Buying Assurance – Have you ever been wary about buying a used vehicle for fear that it has some underlying issue? That fear can be totally allayed when you hire us for a pre purchase vehicle inspection in Portland, OR.
Save Time – In most cases, we can arrange for the vehicle owner to bring the car to our shop, or we can meet the owner and inspect the vehicle on-site.
BMW & Mini Expertise – Our team has been trained to inspect and repair BMW and Minis. If you are considering buying one of these vehicles, there is no one better to hire for a pre purchase inspection in Portland than Boyd Motor Werks.
Full Reports – If there is a problem with the vehicle, we will detail it in our report, take pictures, and explain the issue, including how much it would take to repair, how long, and if the vehicle is worth the price.
Buying Out of Town – Are you out of town but want to complete the purchase of a vehicle? No problem. We can inspect the car on your behalf and share our report even if you're out of town.
Review Our Other Services
In addition to thorough, detailed pre purchase inspections, we also specialize in quality, genuine Mini Cooper and BMW auto repair services. We also offer OEM parts for BMWs and Mini Coopers. We are available to perform any of these services:
Schedule a BMW or Mini Cooper Pre Purchase Inspection
Call or contact us online to schedule a BMW or Mini Cooper pre purchase inspection in Portland, OR. Our ASE-certified technicians are committed to protecting your money and making sure you make a smart investment in your next vehicle. We provide comprehensive, detailed inspections as well as a thorough inspection report so you can make an informed decision about your purchase.
Auto Repairs from a Business that Emphasizes Integrity, Trust, and Value